North Queensland Animal Rescue places all dogs into approved, loving foster homes – we do not have a shelter facility.
Our foster carers are the heart of our organisation, not only do they save lives, they make a significant difference to the lives of the dogs in their care.
Some dogs just need a safe place to stay until they find their forever home, while others need additional veterinary care and nursing back to health or support to improve behaviours, confidence and to learn how to trust again.
We use the information we have on a dog's background and the knowledge of foster carers home lives and experience to match dogs to suitable foster homes.
All Vet Work
Dogs in NQAR routinely receive a vet check, vaccinations and are microchipped and desexed (as required). Additional vet care may also be needed. NQAR pays for all vet bills, including emergency care.
Tick, Worm
& Flea
Preventatives
All dogs receive regular preventative treatments. NQAR provides all medications needed.
Dog Food
NQAR is fortunate to receive regular donations of good quality kibble so foster carers are rarely required to provide food for dogs in their care. We also purchase food for dogs with special requirements.
Dog Equipment
NQAR has crates for foster carers to borrow and we often have a selection of donated dog bowls, bedding, toys etc available. All dogs in NQAR care wear yellow 'adopt me' collars with ID tags. We also have 'adopt me' harnesses and leads available for foster carers to use.
Support & Training
Our coordination team provides a range of advice from introducing a foster dog into your household to how to write a dog adoption profile. A private Facebook group provides an opportunity for foster carers to share experiences, ask questions and offer peer support.
03
"I have learnt so much that has helped me with my own dogs too."
02
"The kids love having the foster dogs come to stay with us. They love teaching them new tricks and have learned patience and kindness well beyond their years."
01
"Seeing the dogs overcome any initial issues and go to a loving forever home is just the best feeling in the world."
What It's Like To Foster
"Best part of fostering for NQAR is knowing there's knowledge and a support network behind you. The most rewarding part is getting involved in a last minute pound break."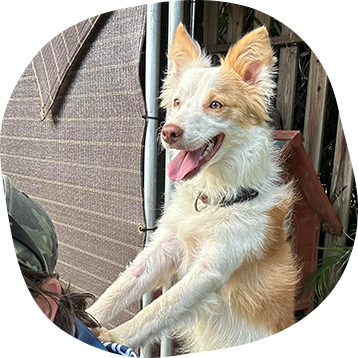 A Safe, Temporary Home

The basic requirements are secure fencing, shelter, a place to sleep and access to food and water.

Love and Patience

Dogs coming into care can be unsettled, scared or from difficult situations. Foster carers need to show lots of love and patience while they adjust to their new life.

Transport

Foster carers are expected to transport dogs in their care to and from vet appointments, training, adoption days or wherever else they need to go. Carers may also need to pickup medication supplies, food, crates etc from various locations.

Enrichment

Enrichment activities keep dogs physically, emotionally and mentally stimulated. Foster carers are expected to provide regular exercise and enrichment for dogs in their care to ensure they are happy and healthy.

Training

While some dogs coming into care are well trained and socialised, others need support to develop good manners and learn basic commands. We ask that foster carers work towards basic obedience with dogs in their care.

Adoption Support

Foster carers are very involved in matching dogs with potential adopters. They write dog profiles, assist with short listing applicants, arrange meet and greets, either at their home or at a convenient location, and provide input into decision making.
Interested in becoming a foster carer? Click below to fill out our foster form.